Metal building for your auto repair workshop
Many mechanic shop owners choose steel buildings for their shops because they offer all advantages of low-rise steel construction methods.  A high-quality metal building promises great value— and it delivers on that promise. 
Why Auto Shops Choose Steel Buildings
There are seven main reasons to use pre-engineered metal buildings for auto shops.
1. SPACE: Our metal auto shop buildings feature clear-span framing which eliminates the need for interior load bearing supports, maximizing workable floor space in your auto shop or mechanical building. Without interior columns, you can more easily manoeuvre vehicles inside, creating drive through functionality. You can customize the height of your building up to 12 meter to easily accommodate car lifts. Also our large spans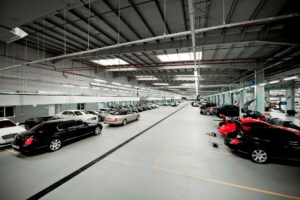 2. FAST ERECTION: Tekmetsan steel buildings offer fast construction time for the erection of the workshops. All the steel parts of your building arrives clearly marked and ready to assemble. Experienced owners may even decide to erect the framing themselves to cut construction costs. Our team will support you in the erection process.
3. NON-COMBUSTIBLE: Steel is not a combustible material therefore frequently used flammable products such as gasoline, oil and etc does not bear high risk for the steel structure. Also our fireproof insulated panels are ideal for workshop roof and walls.
With the flexibility metal buildings offer, you're free to customize the interior of your automotive repair building with functionality & efficiency in mind.
You can configure bays in a variety of sizes and layouts depending on your needs. You can also add an office space or waiting area wherever you'd like. A lot of our clients prefer mezzanines for their offices or storage area in order to save space on the ground floor.
Tekmetsan offers built in mezzanine systems and steel stairs incorporated into the workshop structure.
TEKMETSAN Metal Buildings for Auto Shops
All commercial building owners, including auto service owners, want a well-built, long-lasting structure that holds the value of their investment. That means they want a TEKMETSAN steel building.
Make your upcoming auto industry construction project a TEKMETSAN steel building. TEKMETSAN auto garages provide years of trouble-free service.  
Advances in steel building engineering and manufacturing allow us to custom design a prefab metal building quickly and economically.  And with the TEKMETSAN steel building system, later expansion of your auto shop is quick, easy, and inexpensive.
Tekmetsan offers custom design metal workshops for mechanics and repair shop owners. Our long lasting buildings with our excellent customer service offer high value for your money and exceed your expectations.