Aluminium Composite Panels ( Alucobond)
Aluminium Composite Panels are a lightweight metal cladding ideal for external facades and rain screen cladding amongst other applications.
Aluminium Panels are a composite panel consisting of two aluminium cover sheets and a mineral-filled polymer core.
The surfaces are coated using exclusively high quality and eco-friendly lacquer systems making them weather resistant. These panels can be fully recycled.
It is the combination of formability, flatness, stability and weather resistance that characterises this façade panel as an excellent option for a building façade.
There are two ranges from aluminium composite panels which Tekmetsan supply:
• Fire rated to EN 13501-1 class B
• Fire rated to EN 13501-1 class A2
Tekmetsan offer a complete fabrication service for aluminium facades, please contact our technical department for details.
Insulated Panels (Sandwich Panels)
A modern solution for both residential and commercial construction projects, sandwich panels are composite elements that can be used to build floors, walls, and roofs. Also known as insulated panels, sandwich panels consist of an insulation layer, known as the core, 'sandwiched' between two structural layers.
Thanks to advancements in construction materials, sandwich panels have come a long way from their early prototypes. Nowadays, these panels can be engineered to withstand a variety of internal and external conditions, which makes them a popular choice for both interior and exterior use – meaning walls as well as façades, ceilings as well as roof systems.
Airtight sandwich panels are also an excellent choice for building cold store units, which require specific interior climate conditions to safely store anything from foods to medicine. The performance of sandwich panels varies depending on the materials used for its core and its exterior layers, often referred to as the sheathing.
These days, the most popular materials for the core are expanded polystyrene (EPS), extruded polystyrene (XPS), polyisocyanurate (PIR), polyurethane (PUR), mineral wool (MW). Although each material comes with its own advantages and disadvantages, PIR and PUR cores are generally more resistant to water and fire than EPS or XPS cores, and are more durable than mineral wool or other materials.
Regardless of the materials used, one of the greatest advantages of sandwich panels is that they are much faster to install as compared to 'built-up' systems requiring multiple components. Instead of requiring walls and roofs to be assembled step-by-step – a process which is prone to delays as well as errors in construction – sandwich panels are factory pre-engineered to be single-component systems, requiring minimal time and energy to be built. This, in turn, translates to significant savings in labour, time and material costs for builders.
Tekmetsan offers a complete design and procurement services for the sandwich panel cladding and roofing projects
Tekmetsan offer a self-supporting steel profiled single skin cladding system suitable for both roof and walls. The profiles consist of a coated steel outer sheet rolled to several cladding profiles which can be used to form roofs and for wall cladding. 
The single skin offering includes a comprehensive range of fixings, sealants, flashings and roof lights.
Cladding a building with perforated metal is a very effective way to enliven the facade of what would otherwise be a simple cubed structure. … 
Large perforations allow more natural light to pass through the cladding, but still protect buildings that have large glazed elements from direct sunlight.
Perforated metal panels are produced by punching holes of different shapes and sizes into cold sheets of metal to create various patterns. 
Available in a large variety of finishes including powder coated and anodised, perforated metal provides designers and architects with the freedom to create a diverse range of patterns and designs. 
The amount and size of the perforations are a critical factor for consideration in the design process. We can supply round, square or special-shaped perforated systems as well as bespoke perforated or embossed patterns to suit your project design requirements.
A range of tools can be utilised alongside punching machines to create different perforations or emboss patterns that can be either convex or concave.
The material work hardening properties that result from the embossing process create a much stronger panel solution. As well as the aesthetic properties, perforated panel systems are an effective method of satisfying ventilation and solar shading requirements.
Our specialists can provide expert advice and guidance to assist you in selecting the appropriate format of perforated metal panel to suit individual budgets, designs and installation requirements.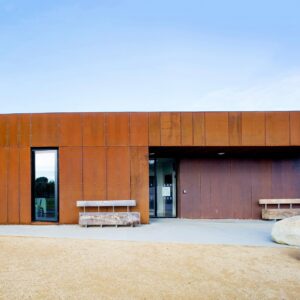 When exposed to atmospheric conditions, Weathering Steel undergoes an oxidisation process, where protective layers develop on the material's surface. These layers contribute to performance and create the metal's rust coloured architectural aesthetic.
When first installed Weathering Steel is grey in colour. Once exposed to atmospheric conditions, the oxidisation process begins. It can take several months for the material to fully transform, morphing from grey into bright orange, and eventually settling into a deep golden brown.
As with any distinctive façade material, weathering steel ( often also referred as Corten steel) specifications require considerable thought and planning, however, as a growing number of projects have shown, when used well it can deliver truly iconic buildings which will continue to change and surprise over time.