Steel staircases offer several benefits over other traditional materials such as timber and concrete. Other than its obvious durability and longevity, steel is a cost-effective, practical and versatile modern staircase construction material:
• It delivers a modern aesthetic
• It is significantly stronger than timber construction
• It is very flexible to meet almost any design challenges
• It enables fast and secure erection.
A striking staircase design is the focal point of your walkthrough and should blend seamlessly with the rest of your building. Not only should the design impact and complement your structure but it should also be practical.
Tekmetsan has broad experience in designing and fabricating commercial and industrial staircases.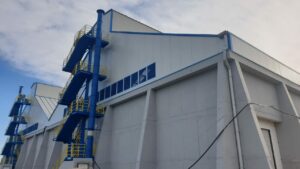 Modular, permanent, code-compliant, industrial staircases (cage, cat ladders) designed to meet the access requirements of industrial applications.
Designed in modular units with a choice of standard stairs or alternating tread stairs. Each unit is assembled and then installed by stacking and bolting together at the base plates for easy alignment. No welding is required for assembly or installation.
• Roof access • Tank access • Long-term construction site stairs • Equipment access • Work platforms
Tekmetsan fabricates bolted stair systems consisting of pre-fabricated landing, stringer, tread, and rail components that are easily customized to meet specific project requirements.
We provide dedicated, in-house resources for each step of your commercial steel stair project
• Estimating
• Project management
• Modeling and detailing
• Material delivery scheduling and phasing
• Installation drawings and support
Applications
• Hotels
• Apartment buildings
• Office and mixed-use
• Mid- and high-rise buildings
• Health Institutions
• Parking garages
• Multi-level storage facilities
• Student housing
Our in-house design team provides all necessary documentation for a successful staircase delivery.
• All projects include modeling and BIM coordination
• .ifc files for structural steel coordination are available
• Complete General Arrangement Set for review and approval
After the order confirmation we provide:
• ISO views
• Section views
• Plan views
• Dimensions
• Connection details